Are you searching for the best live webcast auction software to stream your online auctions?
Well thankfully your search is over. Nothing compares to what we offer auctioneers worldwide.
We have the Live webcast auction software that allows auctioneers to run live-streamed auctions from your own website, featuring real-time bidding, HD video and audio.
We can provide you with webcast auction software that's scalable, trusted, and very simple to use.
Your bidders can also Pre-bid before and during a live webcast auction, a popular feature for online bidders.
Our webcast auction software is an online auction platform run using the latest cloud-based web streaming technologies. Meaning your video auction streams will look great. Your auctions will stream seamlessly on laptops, computers, cellphones and tablets, without the need to download apps.
Our platform is customized in your business's branding and colours to create a fully integrated solution to run off your own website.
On a daily basis, we have over the 15 years made sure the thousands and thousands of live webcast streamed auctions. We have the knowledge and experience to make your live webcast streamed auctions a big success.
You also get a feature rich online auction platform to compliment your webcast auctions
Our online auction software platform is reliable and well suited to all the major auction verticals including plant and machinery auctions, automotive auctions, clearing sales auctions, and antique and collectables auctions.
Online auction solutions for your business
🎥 Live Webcast Auctions
⏳ Timed Online Auctions
📈 Marketplace
👩‍💻 Remote Clerking option
✅ Everything you need & will run from your own website
🏷 White Label Auction Software – 'value protect your bidders & IP' ( Not a group site
)
So modern works on all devices without frustrating bidders to download apps
🧑‍💻 Includes Setup, Training & Local Ongoing Support
🧾 Auction invoicing & reporting
🖥 Websites & marketing
😊 Simple for bidders and powerful for auctioneers
So ready to get started?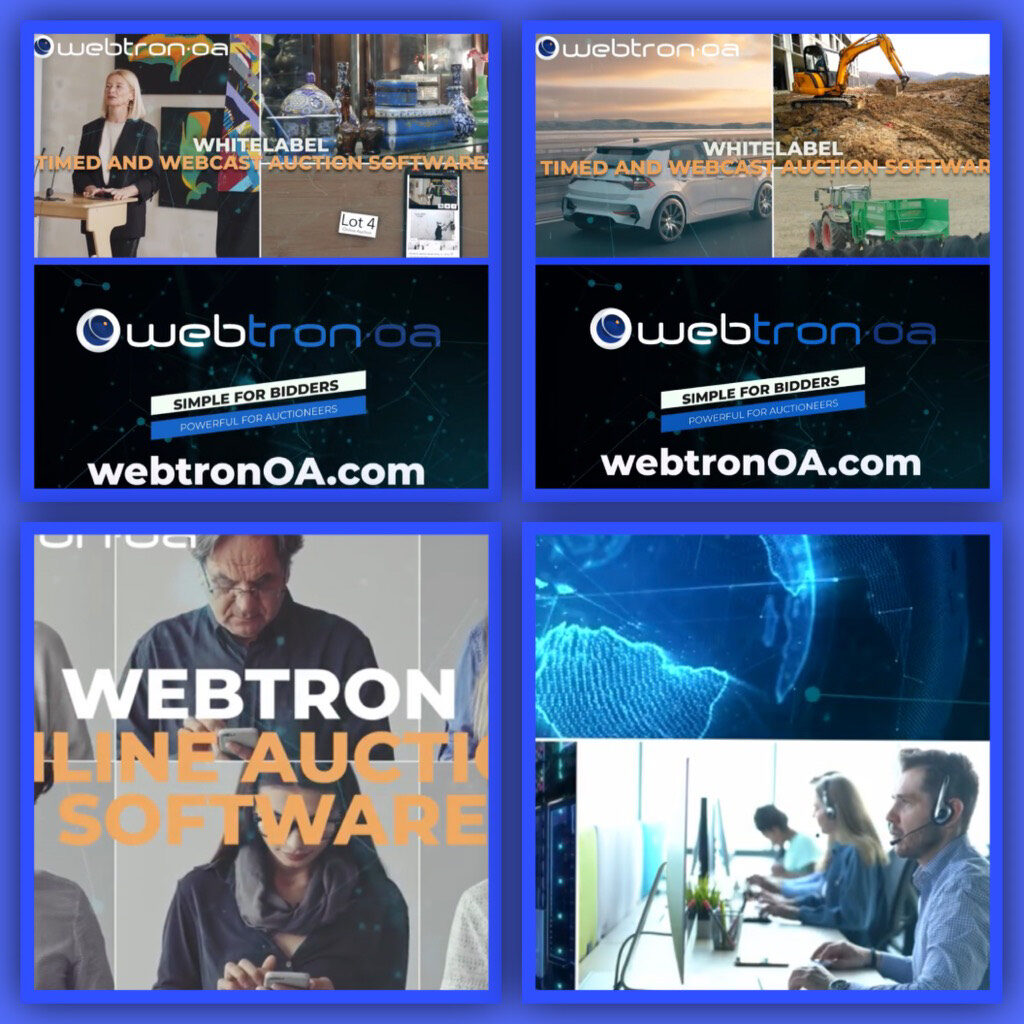 The New Webtron 7.0 Auction Software is here
Take advantage of a white label auction solution that runs from your own website. It has been designed for Live Webcast auctioneers like you to take your online auction business to another level.
It's Simple for bidders and powerful for auctioneers.
Please get in touch and arrange a demo for your business.
Learn more about our HD live webcast auction software